Fall arrester with 3 ft. Shock-absorbing Lanyard.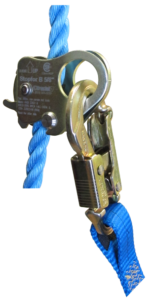 Roll over cam brake technology which applies breaking pressure to the lifeline in the event of a fall yet allows unprecedented mobility when travelling, extending rope life.
FEATURES:
Lightweight
Anti-reversability provided by gravity pin.
Anti-panic function with roll-over cam brake.
5/8 in. three strand rope diameter.
Tractel ® recommends using a lanyard with a maximum length of 3 ft. (0.9 mm) to limit free fall distance