Ready-to-use for permanent wood frame work
I always use a fall arrest system and therefore require absolute comfort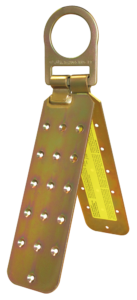 Reusable roofing anchor connector , quick to install
FEATURES :

FEATURES :
Forged self-locking snap hook.
Heavy resistant webbing.
FEATURES :
Adjustable dorsal D-ring
Chest strap keeper: To keep the chest strap in place.
Designed with additional friction preventing chest strap from sliding.
Visual fall indicator / inspection tabs
Spring-loaded adjuster buckle: Adjusts and stays in place. Prevents webbing creeping.
Optional side-positioning D-ring: For work-positioning applications.
Auto-lock buckle*: Available for chest and leg straps.
*Tongue and buckle option available.
Adjustable sub-pelvic strap Improves support in case of a fall.
TracX pad: Provides extra comfort and minimizes weight on shoulders. Keeps you dry and comfortable with breathable lining.
Rubber slider: Prevents from creeping and losing adjustment.
Label cover: Protects labels containing important product information.
Belt loop: To accomodate any Tractel® removable belt or your favorite tool belt up to 4 in. (10 cm) wide.
And more!
Elastic keeper to fold excess webbing.
Plastic sliding keeper to prevent the webbing from slipping out of adjustment.
Lanyard keeper