Ready-to-use for occasional steel erector
I use an occasional fall arrest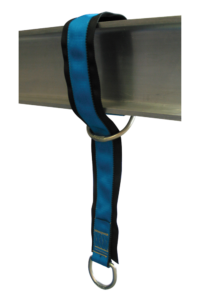 FEATURES :
Quick and easy to install
Pass-through D-ring.
Rated 5,000 lbs. (22.2 kN).
Made of polyester webbing.
Heavy duty back pad.

Allows to tie off at your feet when overhead anchor is not available
FEATURES :
Designed for 12 ft. [3.7 m] free fall
Stretchable from 4 ½ to 6 ft.
Reduces tripping hazards
Weight range 310 lbs. (140 kg)
Self-locking snap hook
Shock-absorber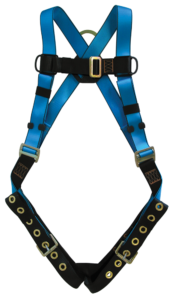 FEATURES:
Chest strap keeper : To keep the chest strap in place. Designed with additional friction preventing chest strap from sliding.
Spring-loaded adjuster buckle : Adjusts and stays in place.
Adjustable sub-pelvic strap : Improved comfort in case of a fall arrest.
Quick-connect leg : Also available with tongue and buckle.
Lanyard clip : To keep the lanyard arm out of the way when not in use, minimizing risk of tripping. Conveniently located on both chest strap keepers.
Elastic keeper : Allows excess webbing to be folded and tucked into the keeper to prevent from getting tangled.
Rubber slider : Prevents from creeping and losing adjustment.
Belt loop : To accomodate any Tractel® removable belt or your favorite tool belt up to 4 in. (10 cm) wide.
And more!
Visual fall indicator
Inspection tag and serial number