Ready-to-use for frequent Industrial maintenance

Tractel recommendation

FEATURES :
Forged self-locking snap hook.
Heavy resistant webbing.
Self-locking snap hook
Shock-absorber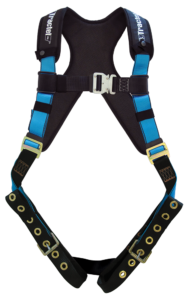 FEATURES :
Chest strap keeper: To keep the chest strap in place.
Designed with additional friction preventing chest strap from sliding.
Spring-loaded adjuster buckle : Adjusts and stays in place.
Adjustable sub-pelvic strap : Improved comfort in case of a fall arrest.
Quick-connect leg*
Also available with tongue and buckle.
Lanyard clip : To keep the lanyard arm out of the way when not in use, minimizing risk of tripping. Conveniently located on both chest strap keepers.
Elastic keeper : Allows excess webbing to be folded and tucked into the keeper to prevent from getting tangled.
Rubber slider : Prevents from creeping and losing adjustment.
Belt loop : To accomodate any Tractel® removable belt or your favorite tool belt up to 4 in. (10 cm) wide.
And more!
Visual fall indicator
Inspection tag and serial number